How to Book your Flying Dress Experience?
Please contact us to get your flying dress price list.

FLYING DRESS DUBAI
We are the number One Dubai Experience Destination for women's beauty.
Floganza Dubai, formerly Dubai Flying Dress Official, offers a memorable flying dress photoshoot experience. The authenticity of the concept is defined by Dubai's two mythical locations, lost in the middle of the desert or on the Palm Jumeirah with Burj Al Arab as a background.
Much more than a simple photography session, we create a personalized and unforgettable Flying Dress photography experience to make you look beautiful and feel confident. We are the number One Dubai Experience Destination for women's beauty.

FLYING DRESS PHOTOSHOOT
Floganza Dubai, formerly Dubai Flying Dress Official, is the premier Flying Dress Photoshoot provider in Dubai since January 2020.
Our team is 100% expert and Exclusively dedicated to flying dress photoshoots requirements.
From the booking onwards, our team of experts will provide to our valued clients: a personalized experience, responsiveness, confidence, a professional service and also affordable premium prices.
Coupled with a worldwide reputation, Customer satisfaction and highest quality photography service are our main motivation drivers. We are working with highly trained and qualified experts, in order to make this experience a treasure for decades: photographer, Makeup artists, Hair Stylists and private drivers.
Floganza Dubai, formerly Dubai Flying Dress Official, team employs the best possible equipment and skills to ensure the finest results to your flying dress photoshoot experience.

UNIQUE FLYING DRESS
The Flying Dresses
Catalogue
We have a wonderful collection of Four Flying Dress models and Twelve colors, fitting all body shapes and sizes. Our flying dress assortment, created by the founder, allows clients the freedom to select the styles that best suit their personal desires before your photoshoot session.
We don't rent or sell our flying dresses, as they are exclusive with our photographer, through a flying dress photo shooting experience.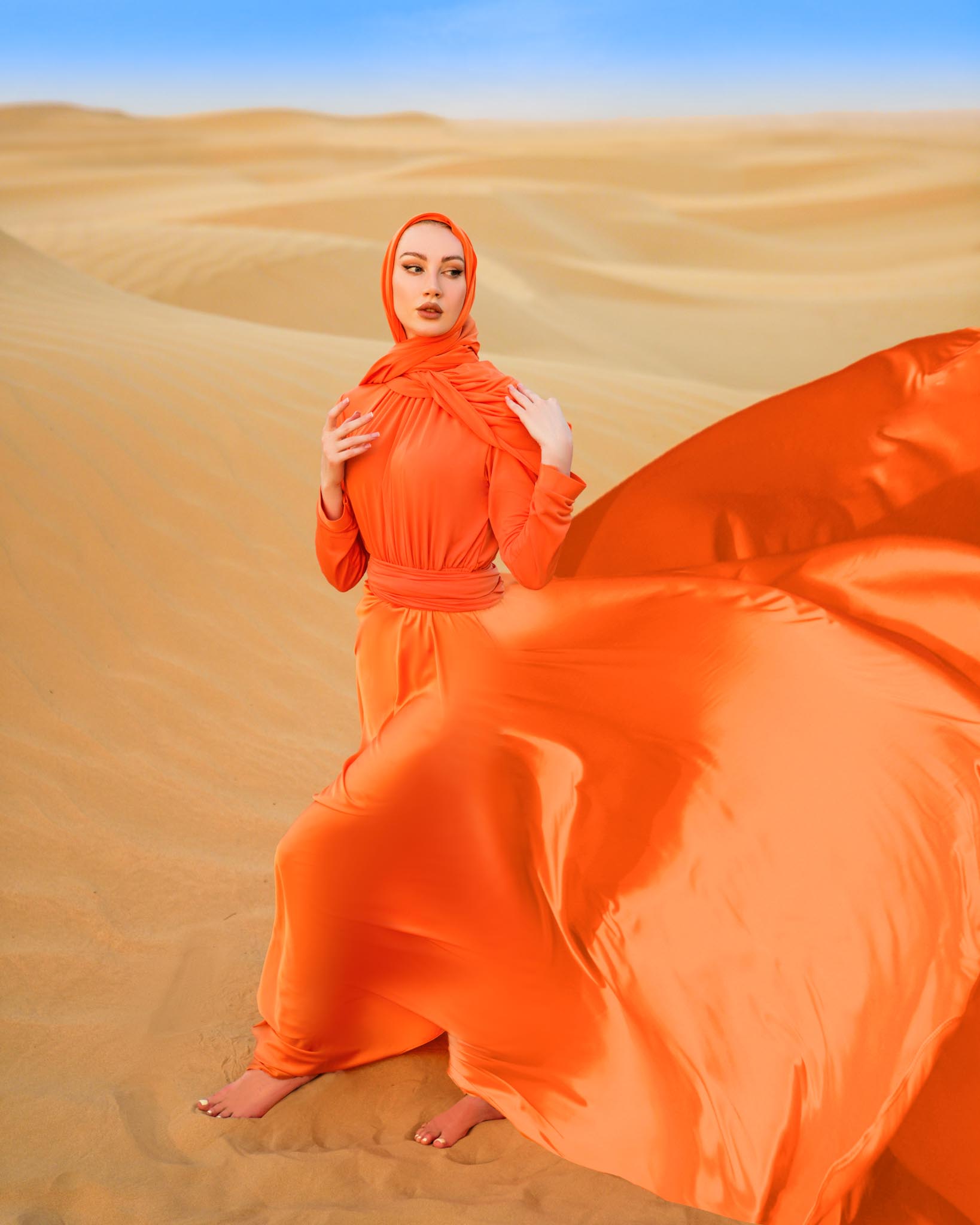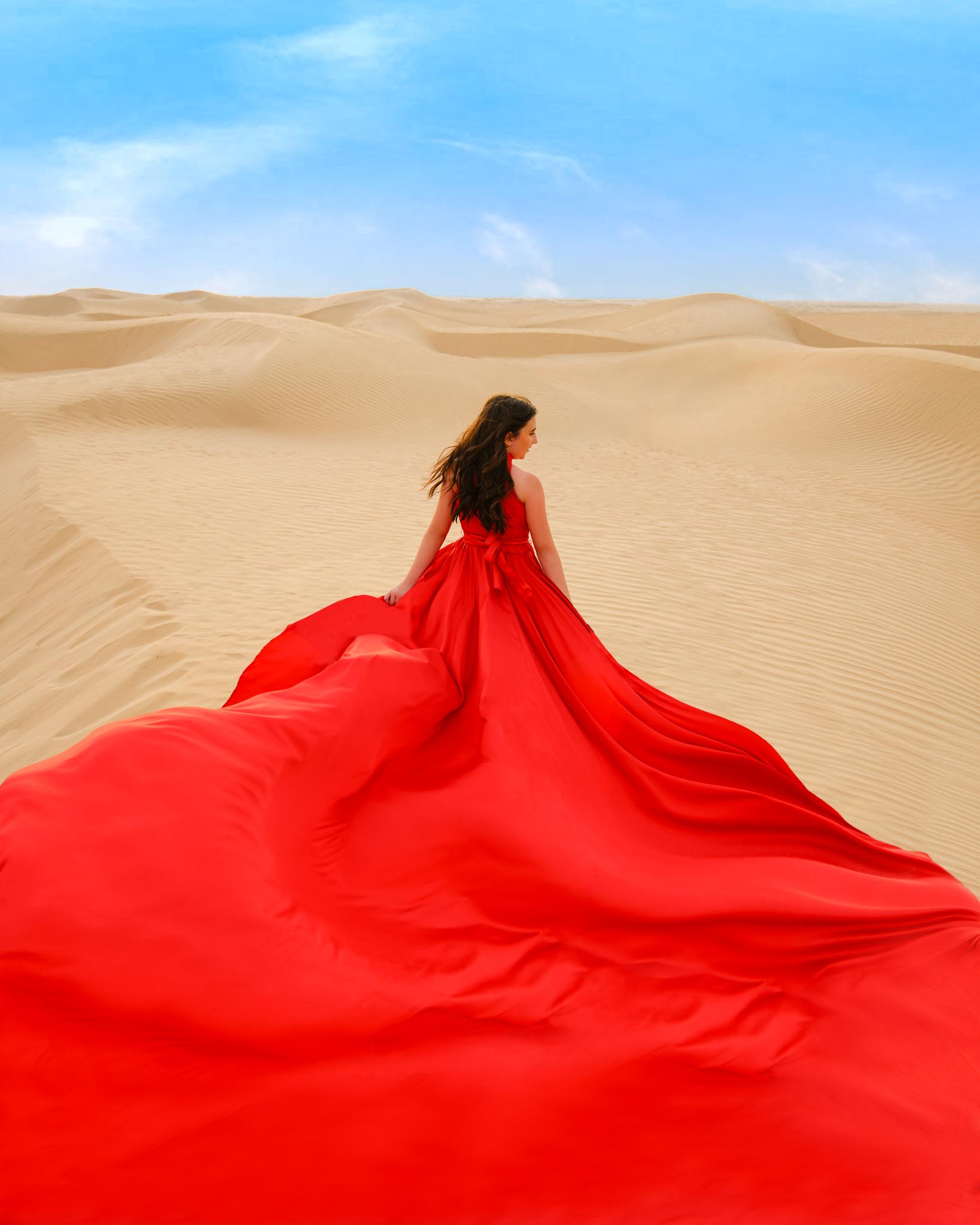 One Size (Up to 12 years old)

BEAUTY SERVICES
Anywhere, Anytime, Beauty Services at Your Doorstep
Floganza Dubai, formerly Dubai Flying Dress Official, achieves excellence by offering premium and personalized Beauty Services at your hotel, before your flying dress photoshoot.

TESTIMONIALS
This was an unforgettable experience from start to finish. The way they interacted with me on Instagram, to making things official on WhatsApp and then immediately putting me in touch with the best makeup artist to driving me to the location in style like a queen. I was received with so much warmth , love and care. I really felt like I own the moment and the whole word is at my finger tips. Alim and Amel, you guys have given me a gift of pure self love and discovery for my inner and outer beauty. No words can say explain how you made me feel. Women out there who have not contacted you yet , are missing a lot. You are not only in the business of beautiful photography with brilliant customer service. You are in the business of women empowerment and support. Please don't stop and keep going. I want the world to know about you. Much love and thank you for an early birthday gift 🤗
Shahla Kashif
Tripadvisor Review
Flying Dress Dubai with Alim and his wife and team was the highlight of my trip to Dubai. They really have the best customer service! From picking me up from my hotel and drop off, to beverage accommodations during the shoot, to Alim being the perfect photographer coach!!! He makes you feel so comfortable, which comes across in the photos. He captures the most beautiful angles and makes you feel like a gorgeous model the entire shoot. On our drive to the destination we saw a heard of camels crossing and he stopped to let us out to take a few snap shots. (The sweetest) They were hands down thee best!!! Book with them… it was soo worth it! And when I come back to Dubai I will surely be booking another shoot with them! Thank you Alim and team! Please keep up the great work you guys do, you all are Awesome!!!
Shapier H
Tripadvisor Review
It was a wonderful experience overall!! The team was super professional and great at what they do. They make you feel very comfortable. Will definitely do it again… The pictures were just beautiful. Thank you Alim & DFD team.
Jennifer Lopez
Google Review

PRESS